Download Collection of Imaging Samples by Industry
*In order to Download Collection of Imaging Samples, we require you to sign up to become a CCS member.
Semiconductor/Electrical Parts Industry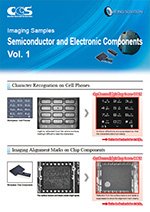 Vol.1 PDF 511KB
Character Recognition on Cell Phones
Alignment Images for Chip Copmonents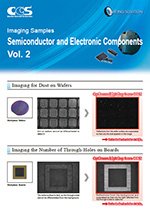 Vol.2 PDF 490KB
Wafer Dust Imaging
Imaging the Number of Through-holes on Boards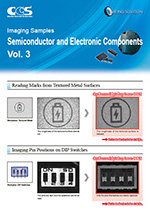 Vol.3 PDF 524KB
Reading Marks from Textured Metal Surfaces
Imaging of DIP Switch Pin Positions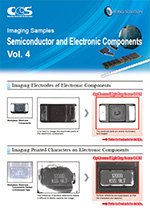 Vol.4 PDF 866KB
Imaging Electrodes of Electronic Components
Imaging Printed Characters on Electronic Components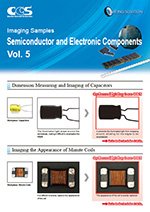 Vol.5 PDF 526KB
Dimension Measuring and Imaging of Condensers
Imaging the External Appearance of Minute Coils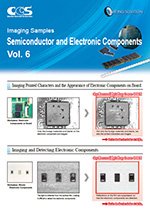 Vol.6 PDF 946KB
Imaging Printed Characters and External Appearance of Electronic Components on Board
Imaging and Detecting Electronic Components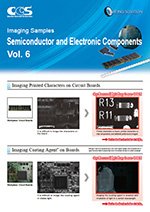 Vol.7 PDF 667KB
Imaging Printed Characters on Board
Imaging Coating Agent on Board
There are great differences in imaging results depending on the shape of the Light Unit, emitted color, illuminating method and similar conditions.
Please inquire with CCS so that we can use our vast knowledge and experience to help you with imaging.