UV Irradiation Devices
CCS provides custom light fixture solutions that make use of UV-LEDs (ultraviolet LEDs) that are designed to meet various shape and usage requirements.
For everything from spot curing to area curing, we offer customization that will meet the needs of our customers.
High output UV light fixtures that are capable of UV curing/ultraviolet curing
Products capable of providing area curing type (wide range irradiation) UV lighting
Customization that meets the needs of our customers
High Output Ultraviolet LED Light Fixtures That Are Capable of UV Curing
We offer high output ultraviolet light fixture solutions that are capable of ultraviolet curing for adhesive uses, etc.
Customers can choose between a peak wavelength of 365nm/385nm. In regards to other wavelengths, please inquire further.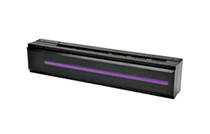 Example of line-type product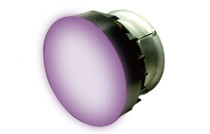 Example of area-type product
New Solutions Provided by Area Cures (Wide Range)
You can use area and line lights to efficiently illuminate wide-range areas that are difficult to illuminate using spot lights.
The area cure serves to reduce man-hours as well as the number of Light Unit.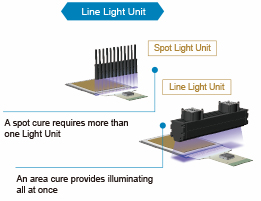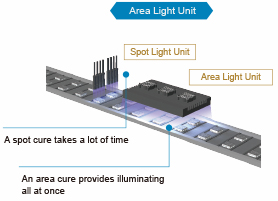 Custom Orders
Based on the technology we have accumulated producing Light Units for image processing, we can provide high-output UV-LED Lights that meet a wide variety of requirements.
To meet those requirements, we have our standard line and area type lights, and can provide any other shape or format by custom order.