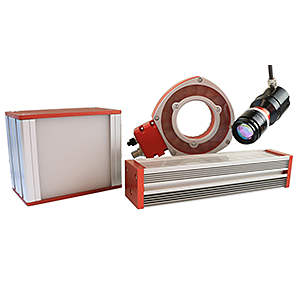 SWIR
Thanks to the innovative high-power LED SWIR source developed by EFFILUX, our full range of SWIR lighting solutions can be well adapted to different cameras, overcoming the current limitations of common lighting, taking machine vision inspection to the next level.
SWIR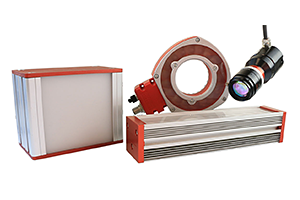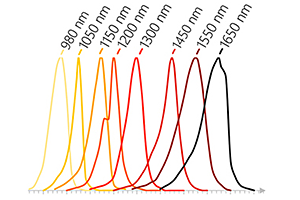 Great lifetime and no excessive warm up
Perfect stability and reliability for repetitive tasks and measurements
Speckle free light source, thanks to LED-based technology
Quick pulse is achievable as a result of quick response time
Fully safe for human eyes, in contrast to laser source
Low power consumption as a result of energy efficiency design
SWIR H.O.P.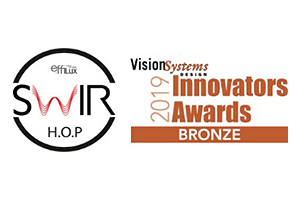 In partnership with the French Institute of Optics, EFFILUX developed an innovative LED SWIR source - SWIR H.O.P. (High Optical Power) Technology, based on a proprietary material that emits SWIR light, which is designed to deliver high output power.
The SWIR H.O.P. technology retains all the advantages of LEDs compared to halogen or laser sources, with huge improvements in power and the flexibility to create both highly focused SWIR beams, as well as large area uniform SWIR illumination. In fact, one "chip" of the H.O.P. technology emits a luminous flux comparable to a 50W halogen source.
Cost efficient: many expensive SWIR LEDs can be replaced by a single H.O.P. "chip" to achieve the same output power, resulting in lower costs for system builders.
Superior optical performances and flexibility: User could project any pattern required on illuminate objects from short working distance (focused light) to far working distance (5 meters).
Compact size with high level of adaptability: Can be integrated easily into a variety of illuminators.
Exceptionally powerful LED SWIR source: To reveal the invisible phenomena that usual LED systems could not.

Common uses: Water detection (agriculture, food, medical/biotech), opaque materials inspection (plastics, silicon, solar cells etc),
fill level, security, see through smoke, fog, dust, etc.
Products
Machine Vision Applications

Ring

Square

Bar (Area)

Flat

Dome

Cylinder

Box

Spot

Line (Convergent Lighting)

Line (Diffused Lighting)

Line (Oblique Angled Lighting)

UV Lights [Ultraviolet Lighting] / Violet Light

IR Lights [Infrared Lighting] (under 1000nm)

Custom Order Product

Intensity Control Units [Light Units with Intensity Control Unit ]

OLED(CCS-LT)

Effilux Products

Basler Camera Light Series

IR Lights [Infrared Lighting] (over 1000nm)

Reference Light Source

Agri-Bio Lighting

LED Light Units for Plant Research

ISL-150X150 Series Unit

ISL-150X150 series cables

Human Vision Inspection and Microscope Applications

LED Light Units for Microscopes

Power Supplies

High Power Strobe Control Unit

Digital Control Units

Analog Control Units

Building Block Types

LED Light Controller

Control Units [for the HLV Series]

Strobe Unit

High-capacity Analog Control Unit

High-capacity Constant-current Control Units

Controller with EtherNet/IP Interface

PoE Enabled Controller

Control Units [for CCS AItec]

Cables

Extension Cable [for PF Series]

Straight Cables

2-way Cables [EL connector type]

4-way Cables

Robot Cables

Straight Cables [EL connector type]

2-way Cables [EL connector type]

Straight Cables for metal connector (7 pins)

Straight Cables for metal connector (37 pins)

Straight Cables for M12 connector

External Control Cables

Relay Connector

Options

Filters

Polarizing Plates

Diffusion Plates

Light Control Films

Adapter [for the CSR Series]

Lens Attachment Rings

Fixtures

Converter

Protective Plates

Coaxial Units

Fixtures

Reflection Plate

Condenser lens

Lenses

Telecentric Lenses

Macro Lenses