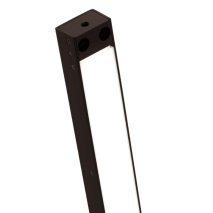 LND2 Series
These Line Lights achieve high brightness which is equivalent to a fluorescent lamp while keeping the price down.
Highly uniform diffused light is irradiated.

Download Pamphlet PDF


Product Inquiry
Features
Suitable for all types of line sensor inspections
This Line Light achieves brightness equivalent to a fluorescent lamp while keeping the price down.
Emitting surface length
You can select from 101 mm, 201 mm, 301 mm, 401 mm, 501 mm, 603 mm, 703 mm, 803 mm, 903 mm, 1003 mm, 1103 mm and 1,203 mm.

For a custom order, we can create an emitting surface with a length with a 100 mm pitch.
LED color
For emitted LED color, we have a lineup consisting of:
Red and White Select your Light Unit based on the details of your inspections.
For a custom order, we can create LEDs that emit blue, green, IR, or UV.
Also perfect for replacing fluorescent lamps
LEDs have a long service life, so the bulbs don't burn out like fluorescent lamps, thus reducing costs for lamp replacement and work hours.
Comparison of service life between the LND2 (red) and a fluorescent lamp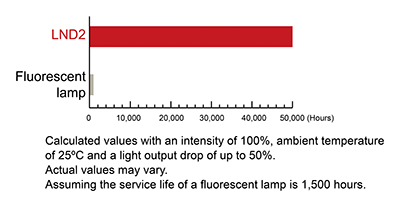 Change in the amount of light from the LEDs and work hours for replacing fluorescent lamps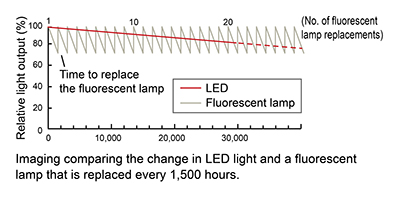 Applications
Foreign material inspection for clear film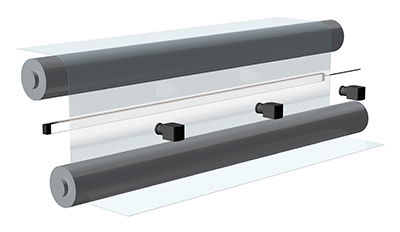 Example configuration
Provides diffused light with a high degree of uniformity by mounting LEDs with high density.
LND2 series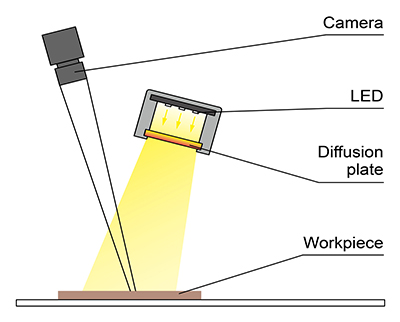 Characteristics/Data
Data (Representative example)
※The graph included is for reference only. Actual values may vary.
LND2-600SW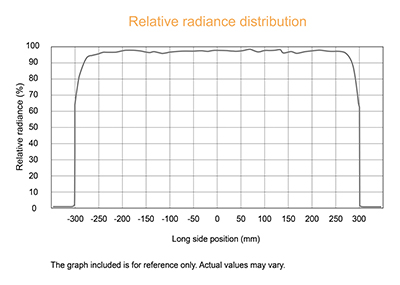 LND2-300SW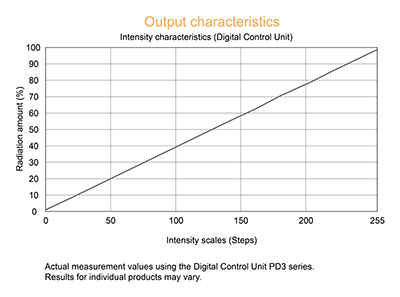 LND2-300SW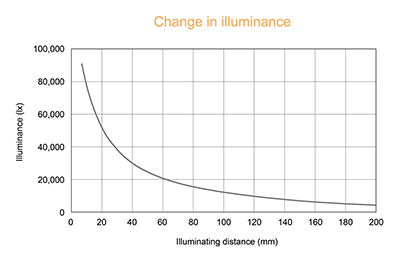 LND2-900SW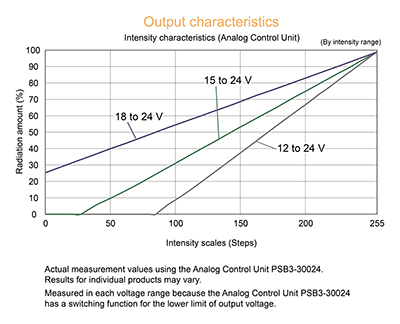 LED properties
Spectral distribution

CCS offers you the most suitable lens filter for each wavelength.
For details about the lens filter, refer to here.
Be sure to read the "Instruction Guide" included with the product before use and follow the safety precautions upon use.
The data included is for reference only. Actual values may vary.
Custom Order Example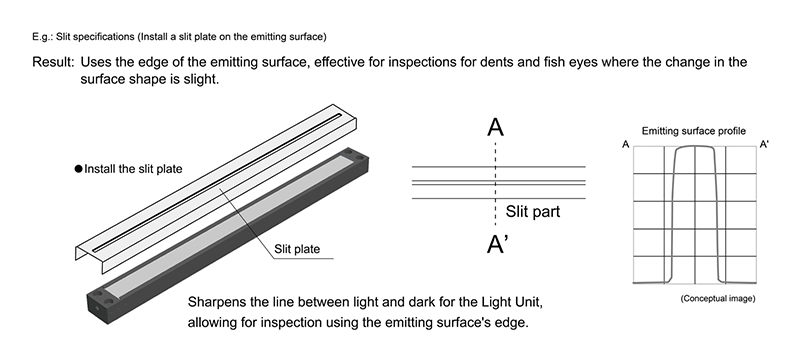 About Member Registration
Member registration is required
Are you still registered with CCS members?
If you register as a CCS member, you will be able to log in and register with the CCS members, download various materials (drawings, instruction manuals etc), select "lighting selection", "apply for lending machine", " It becomes possible to browse and download all contents of our site including request of "quotation" and "catalog", and it will be possible to use many convenient functions. Come and register.
People who are already registered as CCS members
Those who have not registered with CCS members