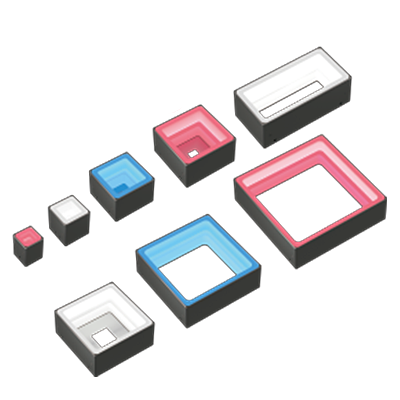 FPQ3 Series
* Low-angle Light Units perfect for square workpieces:
detecting the outline of corners and preventing glare.
* Achieved high output up to double that of conventional products.
* 8 sizes and a total of 24 models.
* Installation holes on the top and lateral surfaces increase installation flexibility.
Features
High-Output (2x Conventional Products)
Output has been increased by 2x for white and blue, 1.5x for red Light Units.
Furthermore, output is more than doubled when used with a POD-series Strobe Overdrive Control Unit.
Comparison of the conventional products of the same color. The data included is for reference only. Actual values may vary.

Expanded Line with 8 Sizes and a Total of 24 Models
External sizes of 60 × 60 mm and 50 × 100 mm (rectangular type) are supported.
The outer dimensions are not changed for the products of the same size as the conventional products.

Perfect for Square Workpieces
Light from the LEDs installed above is transmitted through the light-guiding diffusion plate and diffused light is illuminated from four directions on the workpiece from a low angle.
This is perfect for square workpieces.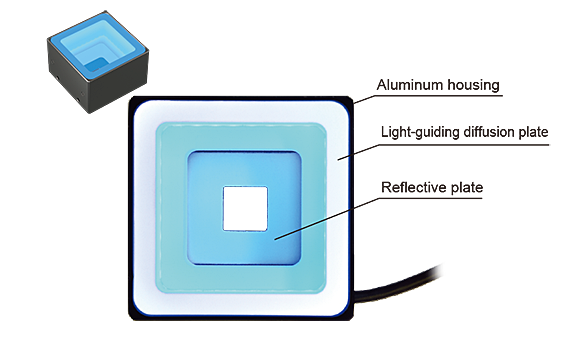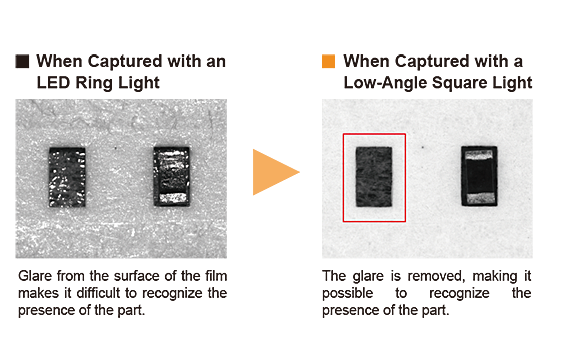 High-Flexibility in Installation
Newly added installation holes on the lateral surfaces of all models increase installation flexibility.
The products of the same size of the conventional products can be installed with the same holes.
Installation Holes on the Lateral Surfaces

Conceptual Image for Installation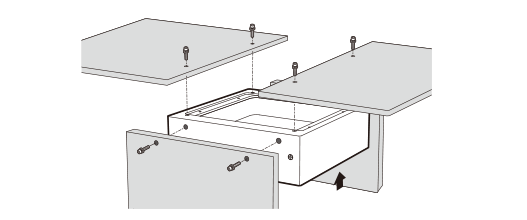 Spectrum distribution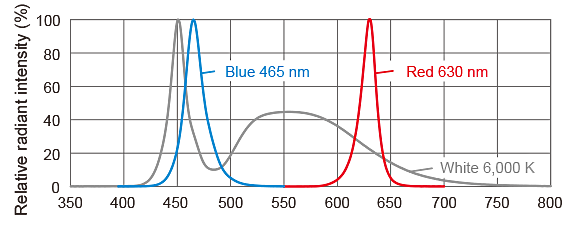 The data included is for reference only. Actual values may vary.
Imaging Example
Imaging Examples for the FPQ3-100X50 Light Unit
Illumination from a low angle clearly highlights the outline of workpieces.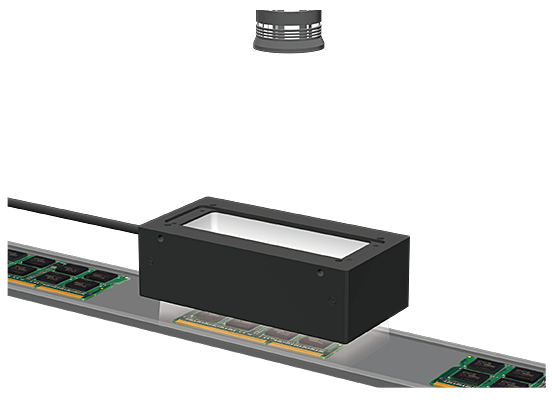 Conceptual Image for Illumination
With uniform and diffused light at a low angle from four directions of the workpiece, the corners stand out.

Workpiece Image: PC memory boards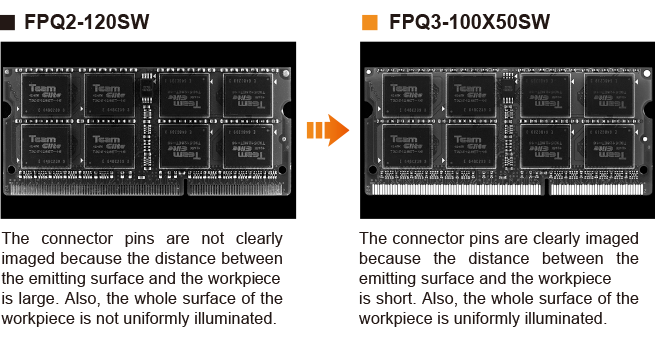 Custom Order Example
Custom Ordered Products and Computational Imaging
Full-color (RGB) Type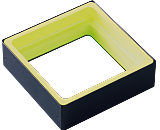 Controls red, blue, and green light to create the color you want
with just one Light Unit.
If there are workpieces with different colors but the same shape, or if there are different types of products on the same assembly line, you were required to set up the Light Units of different LED colors to detect the features. Full-color type Light Unit emits and controls red, blue, and green light with a single unit. This enables you to take the best image to meet your needs.
Segmented Illumination Type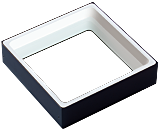 The segmented emitting surfaces strobe separately
to image the peculiarity of the workpiece.
The emitting surface is divided into four segments, which correspond to the four sides of the unit and are separately controlled. This enables the optimum illumination to select the target surface and to fit with the shape of the workpiece. You can select the brightness, strobing ON/OFF, and the timing for each segment and image the peculiarity of the workpiece.
Options
Optional Reflection Plates (Sold Separately)
Installing the reflection plate on the Light Unit enhances the dome effect, which enables highly-uniform and diffused illumination.

Refer to "Reflection Plates" page for the detailed information including the dimensions.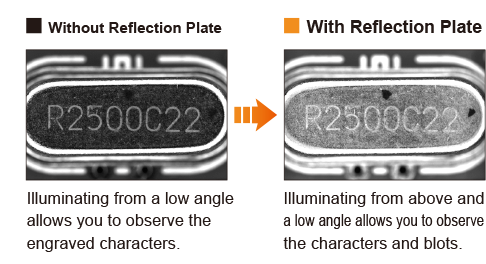 Products
Machine Vision Applications

Ring

Square

Bar (Area)

Flat

Dome

Cylinder

Box

Spot

Line (Convergent Lighting)

Line (Diffused Lighting)

Line (Oblique Angled Lighting)

UV Lights [Ultraviolet Lighting]

IR Lights [Infrared Lighting] (under 1000nm)

Custom Order Product

Intensity Control Units [Light Units with Intensity Control Unit ]

OLED(CCS-LT)

Effilux Products

UV curing

Line-type Ultraviolet Irradiation Units

Agri-Bio Lighting

LED Light Units for Plant Research

ISL-150X150 Series Unit

ISL-150X150 series cables

Human Vision Inspection and Microscope Applications

LED Light Units for Microscopes

Power Supplies

High Power Strobe Control Unit

Digital Control Units

Analog Control Units

Building Block Types

LED Light Controller

Control Units [for the HLV Series]

Strobe Unit

High-capacity Analog Control Unit

High-capacity Constant-current Control Units

Strobe Unit

Controller with EtherNet/IP Interface

PoE Enabled Controller

Control Units [for CCS AItec]

Cables

Extension Cable [for PF Series]

Straight Cables

2-way Cables [EL connector type]

4-way Cables

Robot Cables

Straight Cables [EL connector type]

2-way Cables [EL connector type]

Straight Cables for metal connector (7 pins)

Straight Cables for metal connector (37 pins)

Straight Cables for M12 connector

External Control Cables

Relay Connector

Options

Filters

Polarizing Plates

Diffusion Plates

Light Control Films

Adapter [for the CSR Series]

Lens Attachment Rings

Fixtures

Converter

Protective Plates

Coaxial Units

Fixtures

Reflection Plate

Condenser lens

Lenses

Telecentric Lenses

Macro Lenses
About Member Registration
Member registration is required
Are you still registered with CCS members?
If you register as a CCS member, you will be able to log in and register with the CCS members, download various materials (drawings, instruction manuals etc), select "lighting selection", "apply for lending machine", " It becomes possible to browse and download all contents of our site including request of "quotation" and "catalog", and it will be possible to use many convenient functions. Come and register.
People who are already registered as CCS members
Those who have not registered with CCS members