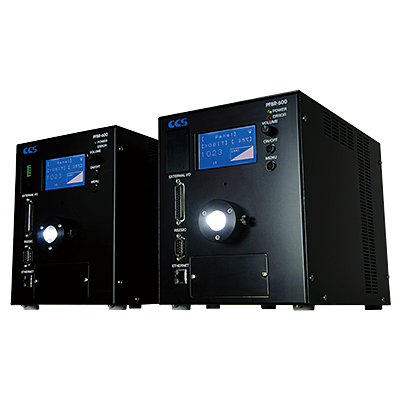 For Replacing Xenon Light Sources (PFBR-600 Made-to-order products)
Made to order PRBR-600 series that uses a new light source that is not LED.
Next-generation light sources with a maximum brightness of 38 million lux *1
Maintenance free (lamp replacement not required)
Strobe lighting mode (internal trigger mode, external trigger mode) can be selected
External control via EtherNet, parallel or serial communication
Dimming setting in up to 1,024 levels (10 bit: 1,024 levels / 8 bit: 256 level
*1 Note: Equipped with straight light guide with bound diameter of φ8 mm and total length of 1,000 mm for maximum dimming.
Measured value at an irradiation distance of 20 mm from the fiber outer end face (not a guaranteed value)
Features
Maintenance-free for greatly reduced workhours
This product is maintenance-free (lamp replacement not required).
The life of a xenon flash lamp is normally 10 to the 8th powers to 10 to the 9th power flashes (approximately 1 billion times), and replacement is necessary.
However, this product has a light emission time of 10 µs and a repetition frequency of 100 Hz, so with 10 to the 9th power flashes (about 1 billion times), the light output remains stable even after 2,800 hours.
High-Speed Response 1 µs or Faster
This strobe light source unit is a solid-state light source with a high-speed driver circuit, which enable extremely short respond time from trigger input to maximum light emission of less than 1 µs.
For pulse illumination synchronized to external trigger input.
Response Time by External Trigger Signal Input *2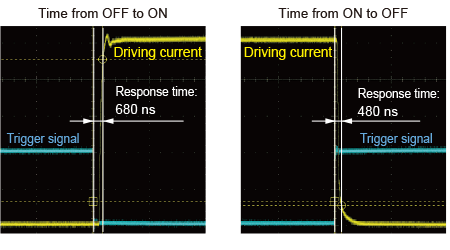 *2 Measured at the maximum light quantity.This data is for reference only. Actual values may vary.
Fully synchronized with camera exposure timing
The "lighting delay time" can be configured and adjusted to completely synchronize the exposure time and lighting time of the camera.
Achieves a stable imaging environment
"Lighting delay time" setting image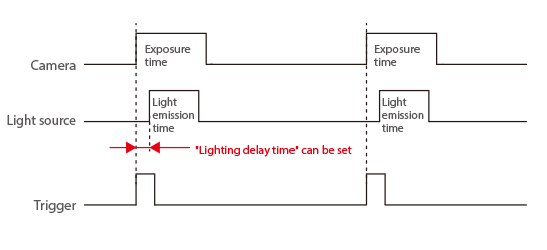 Lighting delay time settings: Min. 0 µs to max. 99 µs
Stable light emission
There is no jitter and no light leakage like a xenon flash lamp.
The lighting waveform is a square wave and can control the lighting cycle with a duty ratio of 1% or less using pulse width modulation (PWM).
Responsiveness provides no fluctuation in delay time (jitter) relative to the trigger signal
Comparison of pulse output with xenon light source
PFBR-600SW-LL-XF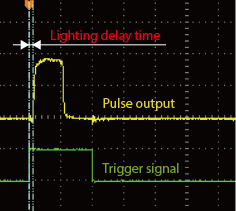 Xenon light source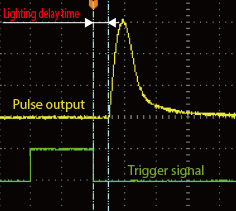 Note: Actual values under our measurement conditions. The data included is for reference only. Actual values may vary.
Characteristics/Data
Light Spectrum Characteristics *3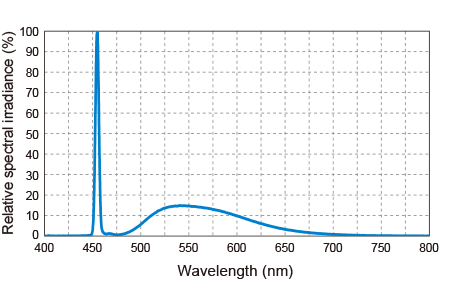 Distribution Characteristics of Fiber Output Edge*4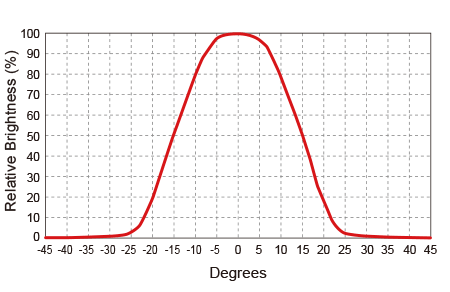 *3 Actual measurement values using our measurement conditions.Results for individual products may vary.
*4 Actual measurement values with intensity of 100%, a bundle of φ8 mm, a straight light guide with a total length of 1,000 mm installed, and at a position 1,000 mm away from the fiber output edge. (Results may vary for individual units.)
Filter Changer
PFBR-600SW-LLCF-XF Filter Changer Model
Use color filters to emit light at specific wavelengths.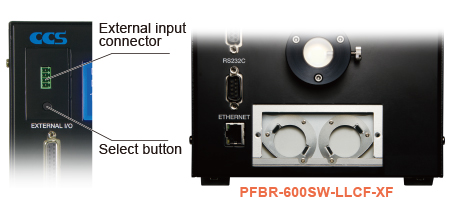 A variety of filters are available with excellent heat resistance.
Equipped with a multi-filter changer that holds five filters.
Filters can be changed manually or using external communication.
Easily replace filters by removing the front cover.
Filters available in six colors.

* Refer to the instruction guide for installing and setting filters.
Options
Light Guides
We offer various light guides suited to a variety of applications, including straight types, ring types, and types for line sensors.
Straight Type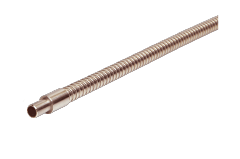 Ring Type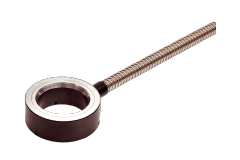 Bar Type for Line Sensors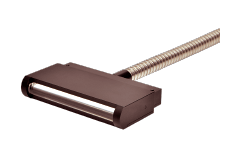 We accept custom orders for the light guides. Please contact your CCS sales representative for details.
Light Guide Adapters
We offer various light guide adapters suited for each type of light guide.
Light Guide Adapter
(AD-PFBR-600-01)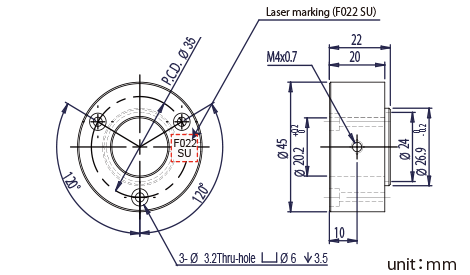 Light Guide Adapter
(AD-PFBR-600-02)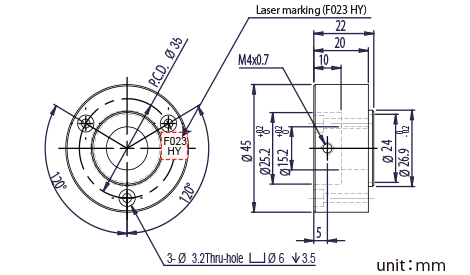 Light Guide Adapter
(AD-PFBR-600-03)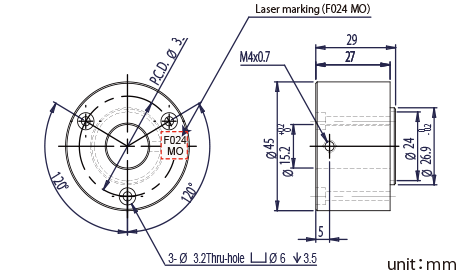 Please be aware that the light guide adapter must be installed after purchase by the customer.
For light guide adapters other than AD-PFBR-600-01, please ask CCS.
External Control Cables
Select an appropriate cable, depending on the communication method.
EXCB2-25M-3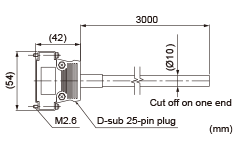 Parallel communication cable(Compatible with digital and analog intensity control)
Purchase a commercially available RS-232 crossover cable (length: 3 m max.) for the serial communication cable.
Purchase a commercially available LAN cable (length: shorter than 30 m) for the Ethernet communication cable. Refer to the instruction guide for more information.

Color Filters
Use filters to emit the optimum light for the inspected workpiece.
Available Six Colors (Five filters can be installed)

Contact your CCS sales representative for the detailed information.
Products
Machine Vision Applications

Ring

Square

Bar (Area)

Flat

Dome

Cylinder

Box

Spot

Line (Convergent Lighting)

Line (Diffused Lighting)

Line (Oblique Angled Lighting)

UV Lights [Ultraviolet Lighting]

IR Lights [Infrared Lighting] (under 1000nm)

Custom Order Product

Intensity Control Units [Light Units with Intensity Control Unit ]

OLED(CCS-LT)

Effilux Products

UV curing

Line-type Ultraviolet Irradiation Units

Agri-Bio Lighting

LED Light Units for Plant Research

ISL-150X150 Series Unit

ISL-150X150 series cables

Human Vision Inspection and Microscope Applications

LED Light Units for Microscopes

Power Supplies

High Power Strobe Control Unit

Digital Control Units

Analog Control Units

Building Block Types

LED Light Controller

Control Units [for the HLV Series]

Strobe Unit

High-capacity Analog Control Unit

High-capacity Constant-current Control Units

Strobe Unit

Controller with EtherNet/IP Interface

PoE Enabled Controller

Control Units [for CCS AItec]

Cables

Extension Cable [for PF Series]

Straight Cables

2-way Cables [EL connector type]

4-way Cables

Robot Cables

Straight Cables [EL connector type]

2-way Cables [EL connector type]

Straight Cables for metal connector (7 pins)

Straight Cables for metal connector (37 pins)

Straight Cables for M12 connector

External Control Cables

Relay Connector

Options

Filters

Polarizing Plates

Diffusion Plates

Light Control Films

Adapter [for the CSR Series]

Lens Attachment Rings

Fixtures

Converter

Protective Plates

Coaxial Units

Fixtures

Reflection Plate

Condenser lens

Lenses

Telecentric Lenses

Macro Lenses