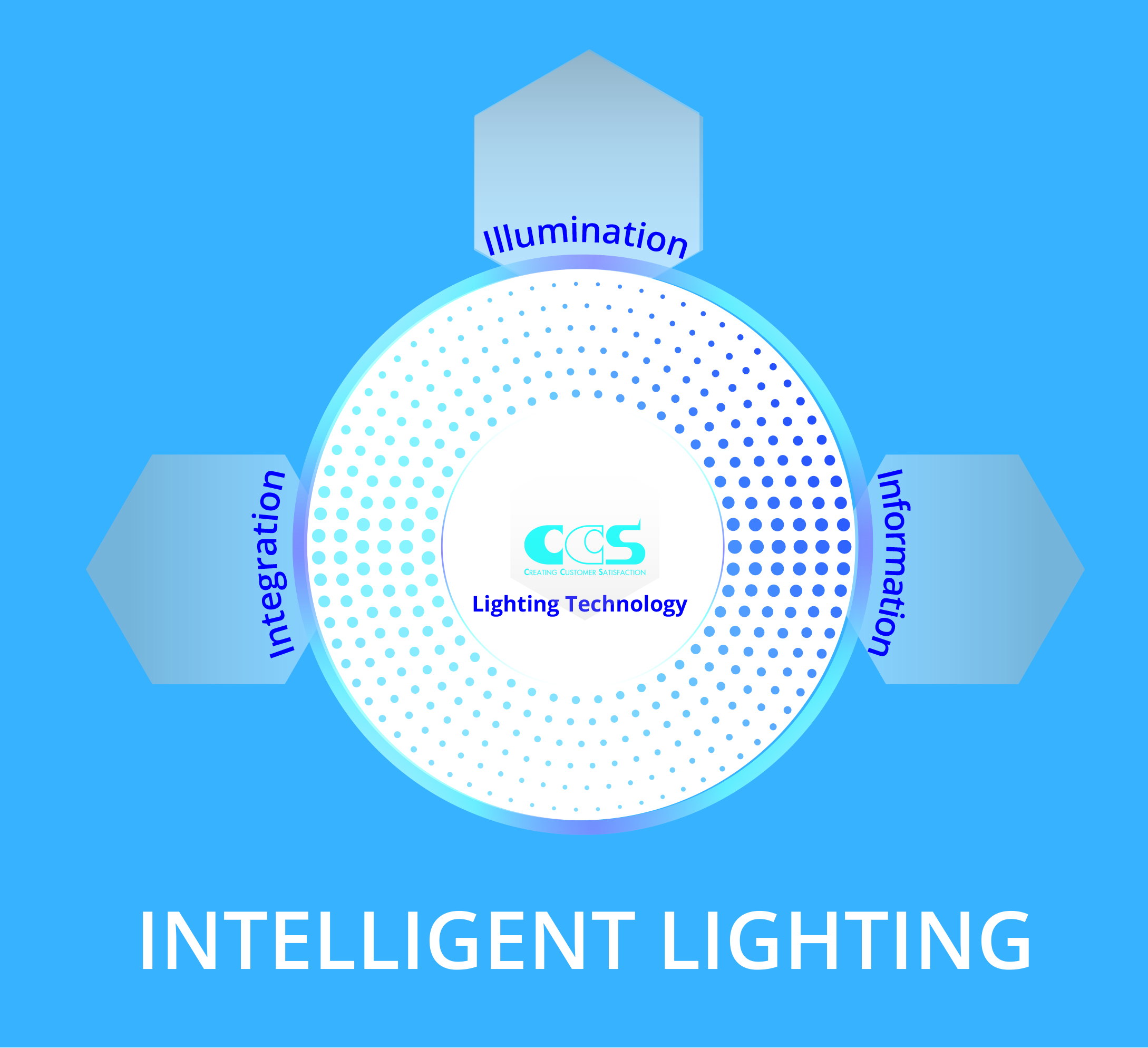 Intelligent Lighting
Thanks to advanced technology, lighting solutions for machine vision image processing has become even simpler, flexible and efficient. Intelligent lighting (smart lighting) brings benefits to various machine vision applications by enabling lighting to be integrated with cameras in a plug & play process, and providing the necessary lighting data which is important for Industry 4.0 systems.

Key functional drivers and benefits of the Intelligent Lighting are:
• lIntegration of camera and lighting within one machine vision environment (one place to set-up all devices), as well as the direct link into imaging software
• Ease of use, Plug & Play
• Lighting data for Industry 4.0 for predictive maintenance, diagnostics and continuous improvement purposes
• Easy and safe implementation of advanced lighting control functions such as overdriving, accurate strobing, multi-pulsing
Camera Light
For easy plug & play connectivity between cameras and lights
Basler Camera Light, powered by CCS - A comprehensive series of Basler SLP feature compatible lighting, jointly developed by both Basler and CCS, the world's leading camera and lighting manufacturer for machine vision applications, offers the maximum ease of use and great cost performance.
The system comprises a combination of harmonized components (camera + light + cables) and an integrated lighting controller, where the light is controlled directly from the camera in a 'plug and play' environment, allowing easy set-up of a powerful machine vision system in a timely and cost effective way.
In addition, the Basler pylon Camera Software Suite provides one configuration environment for both camera and lighting, and all parameterization of light and camera is done via just one interface - including automatic timing for strobing and overdriving.
Series production is scheduled for late Q3 2019.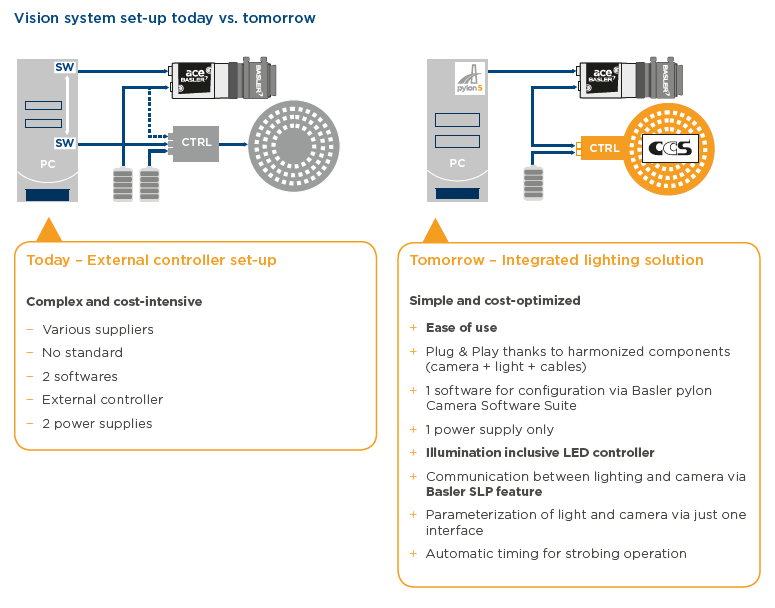 FASTUS
For specialist applications requiring guaranteed illumination levels
FASTUS technology offers a whole new level of machine vision lighting solutions with sensing, monitoring and feedback functions, realizing a stable and reliable inspection. It also guarantees lighting intensity and integrates with GenICam for Industry 4.0 maintenance and performance data.
Sensing - Variation correction and stabilization
Current correction circuit corrects LED forward current variations to achieve uniform brightness. Temperature compensation circuit corrects brightness fluctuation due to rising temperatures after lighting comes on and ambient temperature changes.
Monitoring - Monitoring and adjustment of brightness and temperature variations
Luminance monitor function allows numerical brightness control, with upper/lower limit settings enabling alarm output. Absolute luminance values based on factory default data can be used as indices to enable uniform brightness across lighting.
Feedback - Brightness maintenance
Brightness is automatically adjusted to maintain initial settings.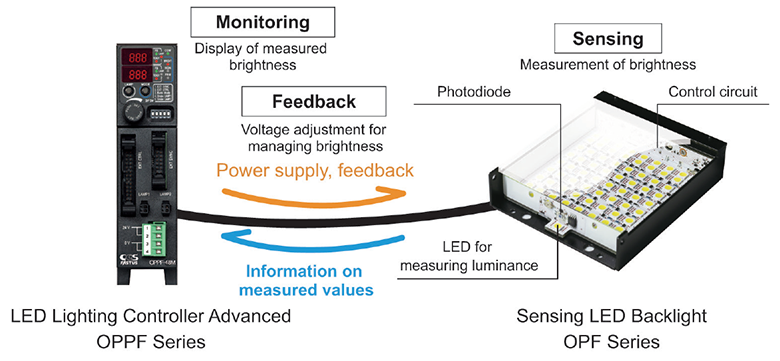 triniti
For high precision lighting applications
trinitiTM is a new, enabling technology from our group company - Gardasoft, which provides expert control, operational intelligence and full integration of Machine Vision Lighting - all within a 'plug-&-play' environment.
With triniti, Machine Vision systems with LED Lighting are now much easier to create, configure and commission, while, at the same time, offering increased functionality. This is because complex control techniques have now been made very easy to implement.
Key benefits at a glance: • Enables non-expert users to use expert Machine Vision lighting techniques • Revolutionises the integration of lighting parameters right through to application level software • Addresses the industry's identified need for a highly flexible system that is also readily 'plug-&-play' • Provides a stability of brightness, long-term, that helps to enhance the reliability of Machine Vision systems, over many years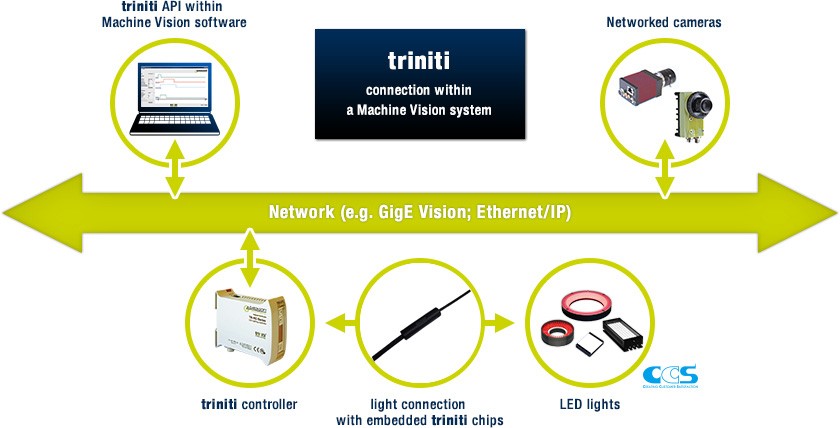 Products
Machine Vision Applications

Ring

Square

Bar (Area)

Flat

Dome

Cylinder

Box

Spot

Line (Convergent Lighting)

Line (Diffused Lighting)

Line (Oblique Angled Lighting)

UV Lights [Ultraviolet Lighting]

IR Lights [Infrared Lighting]

Custom Order Product

Intensity Control Units [Light Units with Intensity Control Unit ]

UV curing

Line-type Ultraviolet Irradiation Units

Agri-Bio Lighting

LED Light Units for Plant Research

ISL-150X150 Series Unit

ISL-150X150 series cables

Human Vision Inspection and Microscope Applications

LED Light Units for Microscopes

Power Supplies

High Power Strobe Control Unit

Digital Control Units

Analog Control Units

Building Block Types

LED Light Controller

Control Units [for the HLV Series]

Strobe Unit

High-capacity Analog Control Unit

High-capacity Constant-current Control Units

Strobe Unit

Controller with EtherNet/IP Interface

PoE Enabled Controller

Cables

Extension Cable [for PF Series]

Straight Cables

2-way Cables [EL connector type]

4-way Cables

Robot Cables

Straight Cables [EL connector type]

2-way Cables [EL connector type]

Straight Cables for metal connector (7 pins)

Straight Cables for metal connector (37 pins)

Straight Cables for M12 connector

External Control Cables

Relay Connector

Options

Filters

Polarizing Plates

Diffusion Plates

Light Control Films

Adapter [for the CSR Series]

Lens Attachment Rings

Fixtures

Converter

Protective Plates

Coaxial Units

Fixtures

Reflection Plate

Condenser lens

Lenses

Telecentric Lenses

Macro Lenses