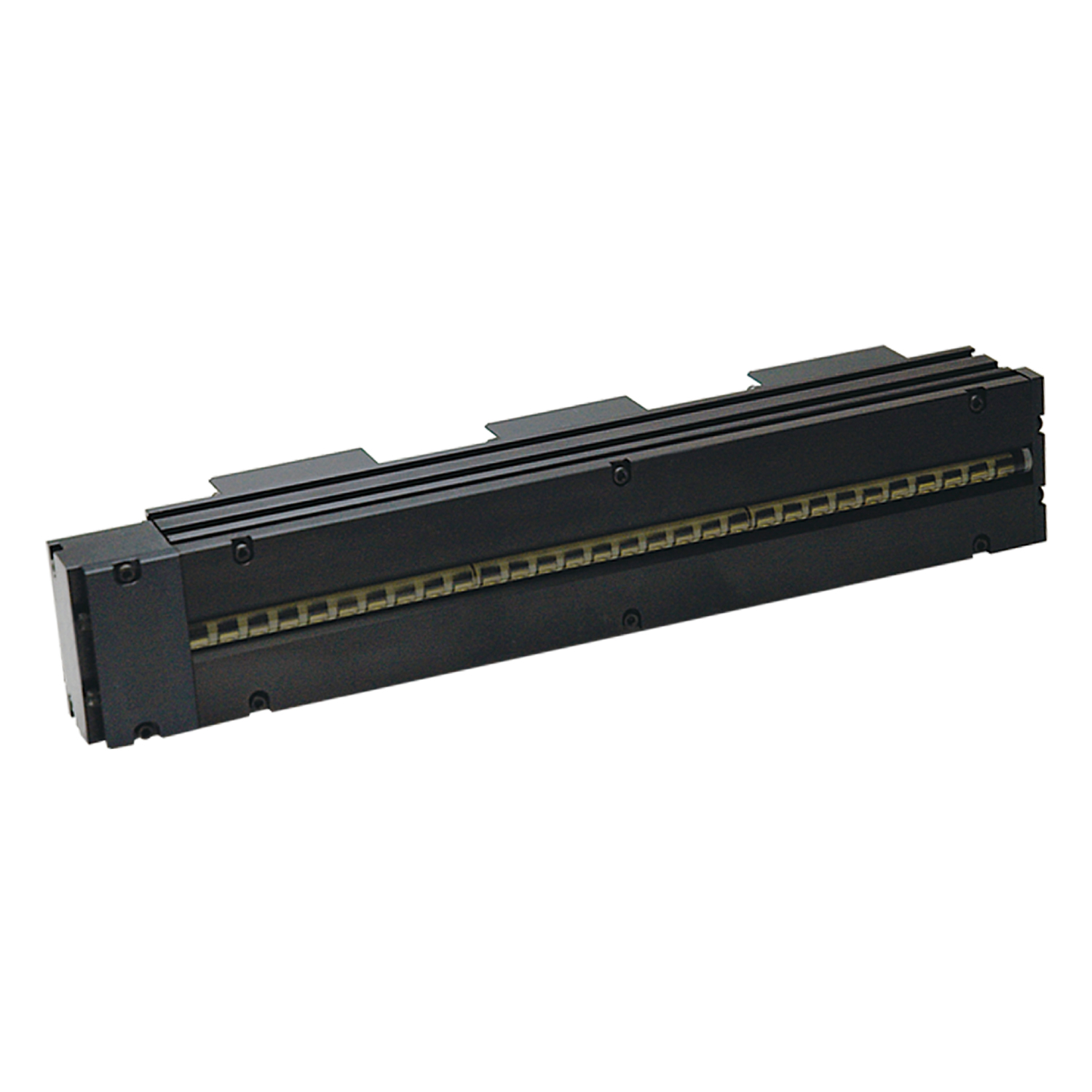 LNSP-UV-FN Series
Not available from "June/30/2023".
The recommended alternative model is UV3 / VL3 Series.
---
These UV-LED irradiators are optimum for excitations.
The "wide type" irradiator provides diffused irradiation over a wide area.
The "narrow type" irradiator provides less-attenuation, long-distance irradiation.
Download Pamphlet PDF
Features
High-capacity constant current Analog Control Units. 300 W and 600 W models are available.
The light intensity can be set to any of 256 or 1,000 different levels.※Parallel communications: Adjustment to 256 levels only
You can adjust the light intensity separately for each Light Unit circuit.※With Ethernet or EIA-485 communication
External control compatible with parallel, EIA-485 and Ethernet communication using a single unit.
The error detection function is able to detect insufficient speed or stopping of the Light Unit cooling fan and bulb burn-out errors by disconnected or shorted LED circuit.
Example connections
Refer to the "Instruction Guide" for details.
Parallel communication
Example connections of external signal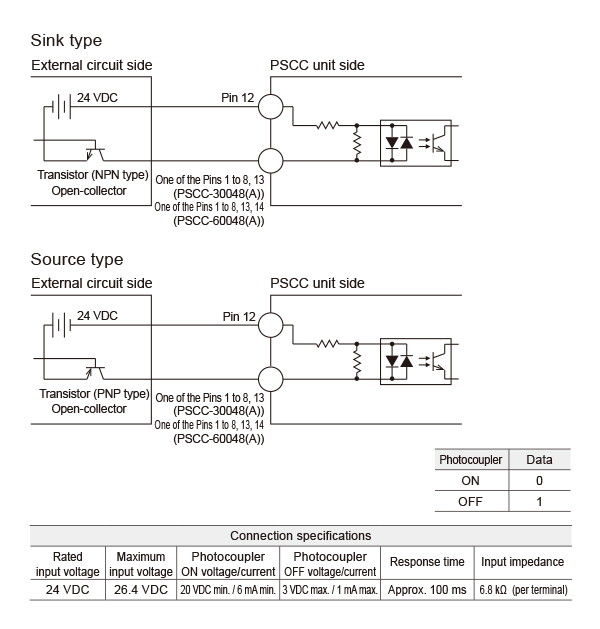 ON/OFF input
Example connections of external signal
You can reverse the operation logic.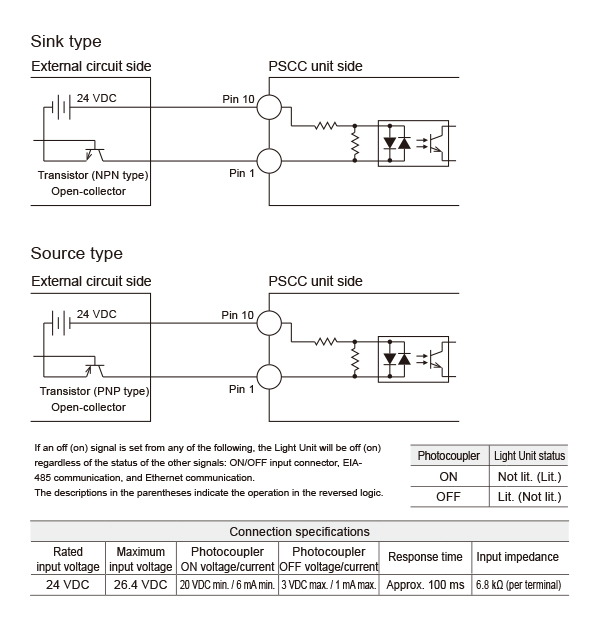 Characteristics/Data
Data: Relative irradiance graph and uniformity (Representative example)
※The data included is for reference only. Actual values may vary.
Narrow Type

Wide Type

LED properties
Spectral distribution

CCS offers you the most suitable lens filter for each wavelength. For details about the lens filter,refer to here.
Be sure to read the "Instruction Guide" included with the product before use and follow the safety precautions upon use.
The data included is for reference only. Actual values may vary.
Custom Order Example
Please contact your CCS sales representative.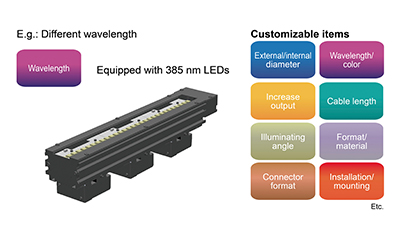 Imaging Example
Imaging to detect contact lenses inside packaging
| | |
| --- | --- |
| Description | Detection inspection |
| Workpiece | Contact lenses |
| Conventional lighting | LED visible light lighting |
| New lighting | LNSP-300UV365-FNNR |
| Result | Fluorescent excitation via ultraviolet lighting |
Imaging of alignment of clear film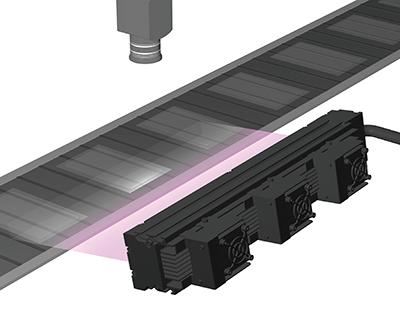 | | |
| --- | --- |
| Description | Visual inspection |
| Workpiece | Clear film |
| Conventional lighting | LED visible light lighting |
| New lighting | LNSP-300UV365-FN |
| Result | Fluorescent excitation via ultraviolet lighting |

Products
Machine Vision Applications

Ring

Square

Bar (Area)

Flat

Dome

Cylinder

Box

Spot

Line (Convergent Lighting)

Line (Diffused Lighting)

Line (Oblique Angled Lighting)

UV Lights [Ultraviolet Lighting] / Violet Light

IR Lights [Infrared Lighting] (under 1000nm)

Custom Order Product

Intensity Control Units [Light Units with Intensity Control Unit ]

OLED(CCS-LT)

Effilux Products

Basler Camera Light Series

IR Lights [Infrared Lighting] (over 1000nm)

Reference Light Source

Agri-Bio Lighting

LED Light Units for Plant Research

ISL-150X150 Series Unit

ISL-150X150 series cables

Human Vision Inspection and Microscope Applications

LED Light Units for Microscopes

Power Supplies

High Power Strobe Control Unit

Digital Control Units

Analog Control Units

Building Block Types

LED Light Controller

Control Units [for the HLV Series]

Strobe Unit

High-capacity Analog Control Unit

High-capacity Constant-current Control Units

Controller with EtherNet/IP Interface

PoE Enabled Controller

Control Units [for CCS AItec]

Cables

Extension Cable [for PF Series]

Straight Cables

2-way Cables [EL connector type]

4-way Cables

Robot Cables

Straight Cables [EL connector type]

2-way Cables [EL connector type]

Straight Cables for metal connector (7 pins)

Straight Cables for metal connector (37 pins)

Straight Cables for M12 connector

External Control Cables

Relay Connector

Options

Filters

Polarizing Plates

Diffusion Plates

Light Control Films

Adapter [for the CSR Series]

Lens Attachment Rings

Fixtures

Converter

Protective Plates

Coaxial Units

Fixtures

Reflection Plate

Condenser lens

Lenses

Telecentric Lenses

Macro Lenses