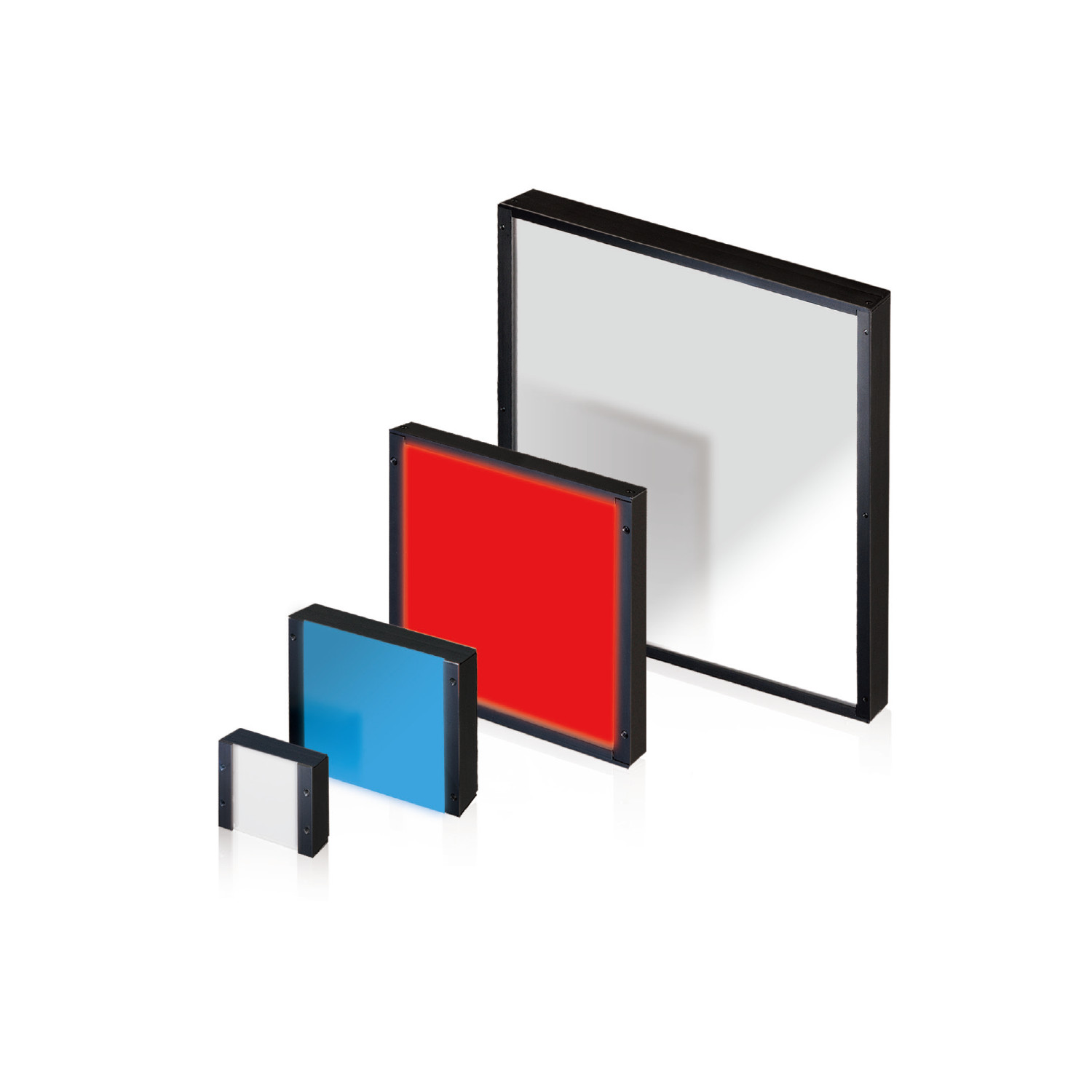 OPF Series
[Not available in Japan]High-accuracy contour extraction and
foreign object detection of transparent and metal workpieces
Features
[An industry first!] Narrow directivity angle type and diffuse type available
The OPF Series is available as a narrow directivity angle type or as a diffuse type, allowing for selection of the directivity angle that best suits the target.
Using the industry's first prism sheet, the narrow directivity angle type allows for clear contour extraction with transparent workpieces and metal workpieces that cause glares, targets that were conventionally difficult to handle.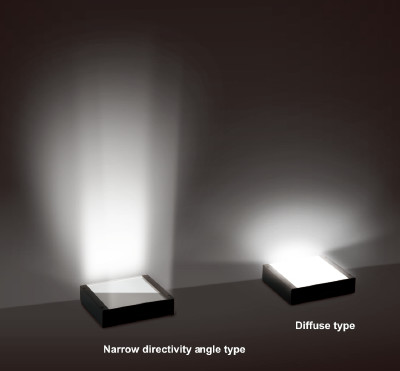 Narrow directivity angle type for powerful contour extraction with transparent or glossy targets
OPF Series lighting is equipped with a proprietary prism sheet on the diffusion plate for a narrow directivity angle (half-value angle of ±17°) equivalent to that offered by conventional light control (LC) film.
Illuminating from the rear with a narrow directivity light angle prevents unwanted reflected light for projection of a crisp silhouette that is not affected by surface conditions.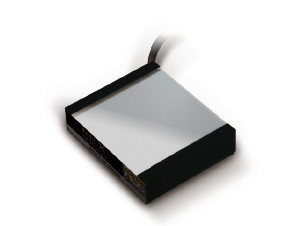 Diffuse type for penetrating scattering workpieces
When detecting foreign matter within workpieces that scatter light, including non-woven fabric and cloudy plastic, a diffuse type is available as an upward-compatible product for conventional OPSM models.
With highly uniform light that is 2.5 times brighter than conventional models, the diffuse type easily penetrates scattering workpieces and displays the shadows of foreign matter.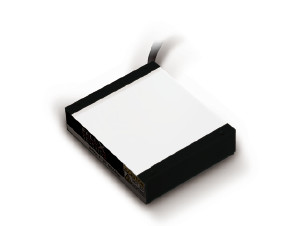 Selective use of directivity angles even with color camera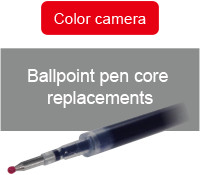 1 The narrow directivity angle type captures contours on shiny cylindrical metal with no glare.
2 The diffuse type's ability to permeate plastic with mixed metal?plastic areas makes it possible to capture even interior metal components.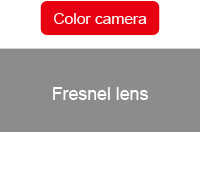 3 The narrow directivity angle type is capable of capturing clear images of the contours of the countersunk portions of screw holes.
4 Dirt and scratches are clearly displayed using the diffuse type and can be shown in separate red and black colors.

Correction of peripheral decreases in brightness
Thanks to an optimized arrangement of LEDs, not only uniformity but also brightness deterioration of the peripheral areas has been improved.
This allows for a larger inspection area than that offered by conventional models to be ensured even with the same light-emitting surface size.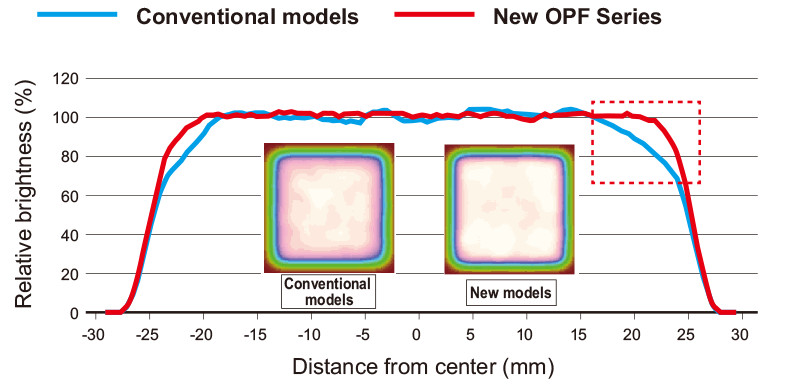 Sensing lighting with automatic brightness management
OPF Series devices include CCS FASTUS's "FALUX sensing" technology. The built-in photodiodes are used to monitor the brightness in order to provide feedback on long-term brightness deterioration, making it possible to maintain the factory default brightness for around 50,000 hours. This helps reduce maintenance costs during operation.
The OPF Series also has LEDs and photodiodes for measuring brightness built in to the housing frame, which allows for accurate measurement of luminance without being affected by extraneous light noise. Control circuitry mounted on the inner wall also helps keep lighting compact.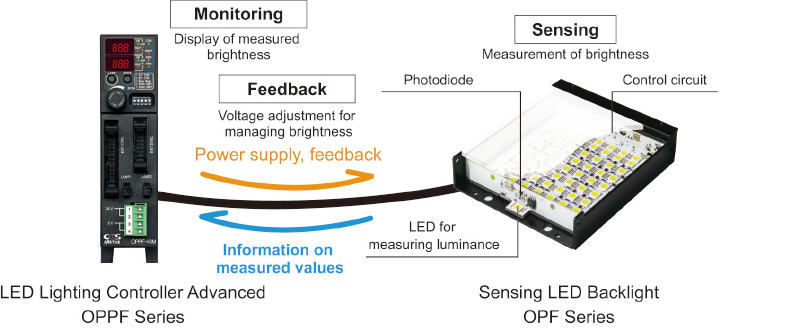 Built-in "FALUX" circuit to correct variations in brightness
The OPF Series is equipped with "FALUX" proprietary technology capable of correcting reductions in luminance due to increased temperatures.
This correction function is activated within the lighting itself by analyzing the temperature inside the lighting device.
Applications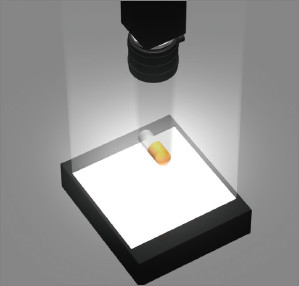 Appearance inspection of transparent capsules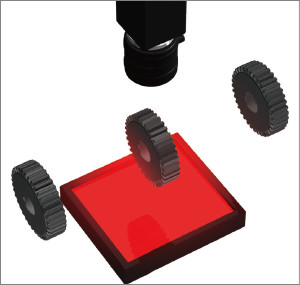 Gear processing inspection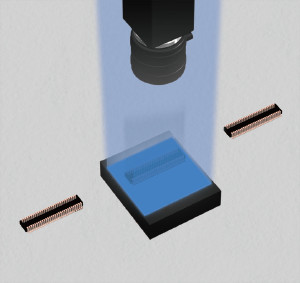 Dimension inspection of connector leads
Products
Machine Vision Applications

Ring

Square

Bar (Area)

Flat

Dome

Cylinder

Box

Spot

Line (Convergent Lighting)

Line (Diffused Lighting)

Line (Oblique Angled Lighting)

UV Lights [Ultraviolet Lighting] / Violet Light

IR Lights [Infrared Lighting] (under 1000nm)

Custom Order Product

Intensity Control Units [Light Units with Intensity Control Unit ]

OLED(CCS-LT)

Effilux Products

Basler Camera Light Series

IR Lights [Infrared Lighting] (over 1000nm)

Agri-Bio Lighting

LED Light Units for Plant Research

ISL-150X150 Series Unit

ISL-150X150 series cables

Human Vision Inspection and Microscope Applications

LED Light Units for Microscopes

Power Supplies

High Power Strobe Control Unit

Digital Control Units

Analog Control Units

Building Block Types

LED Light Controller

Control Units [for the HLV Series]

Strobe Unit

High-capacity Analog Control Unit

High-capacity Constant-current Control Units

Controller with EtherNet/IP Interface

PoE Enabled Controller

Control Units [for CCS AItec]

Cables

Extension Cable [for PF Series]

Straight Cables

2-way Cables [EL connector type]

4-way Cables

Robot Cables

Straight Cables [EL connector type]

2-way Cables [EL connector type]

Straight Cables for metal connector (7 pins)

Straight Cables for metal connector (37 pins)

Straight Cables for M12 connector

External Control Cables

Relay Connector

Options

Filters

Polarizing Plates

Diffusion Plates

Light Control Films

Adapter [for the CSR Series]

Lens Attachment Rings

Fixtures

Converter

Protective Plates

Coaxial Units

Fixtures

Reflection Plate

Condenser lens

Lenses

Telecentric Lenses

Macro Lenses