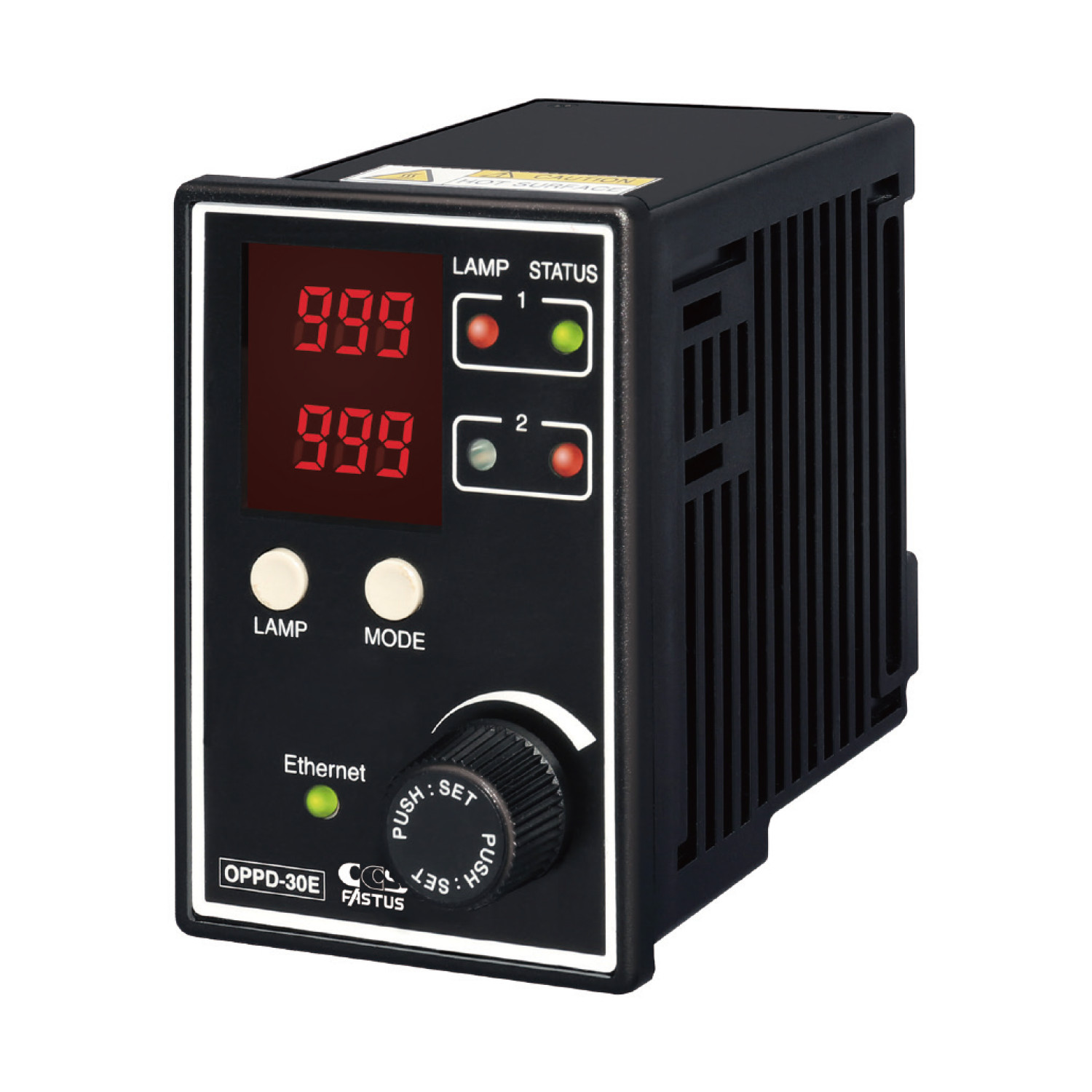 OPPD-30E
[Not available in Japan]Easy Ethernet connectivity
Features
Simple light intensity and ON/OFF control through Ethernet communication Connecting is simple.
Just plug in a LAN cable!
With support for DHCP, the OPPD-30E automatically obtains IP addresses and other information necessary for connection.
Manual configuration of network settings required with conventional models is unnecessary, and communication can be easily established simply by connecting a LAN cable within a DHCP server network environment.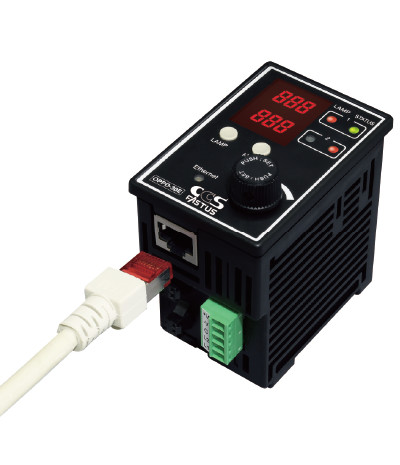 High-speed communication
With the OPPD-30E, light intensity values can be rewritten for both channels in about 6 ms.
OPPD-30E : Approx. 6 ms / 2 ch
Conventional Optex FA models : Approx. 11 ms / 2 ch
Other manufacturer products or equivalent : Approx. 18 ms / 1 ch
Simple PC software-based setup
Dedicated PC software is available for the OPPD-30E. This software can be used to configure light intensity, ON/OFF control and frequency, among other aspects. brAccess the Optex FA homepage to download the software for free.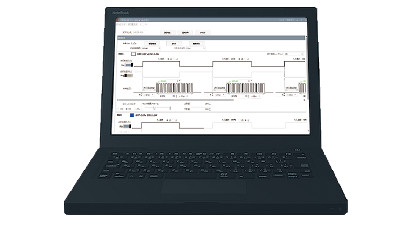 *LAN cable required separately.
Intuitively operable interface

The software interface has been developed so that light intensity and ON/OFF control can be seen at a glance.
Settings can be easily configured through pull-down menus or through direct input.

*Screen content and layout subject to change.

Configurable settings

PWM frequency
Illumination control input selection
Light intensity value/Light emission width
Lighting delay time
Feedback
Monitor brightness alarm, etc.
Compact size
Thanks to high-density mounting technology and an optimuml heat dissipation design, the OPPD-30E boasts a size just 38% that of OPPF Series products.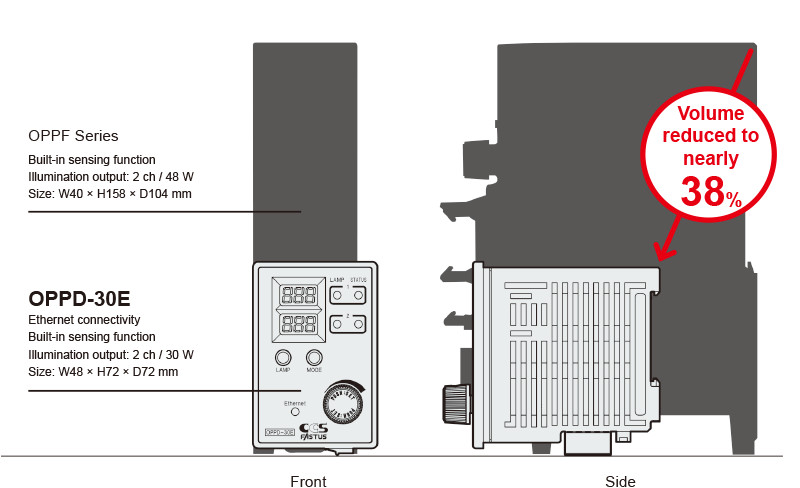 Connection to external device (illumination control)
With NPN open collector output device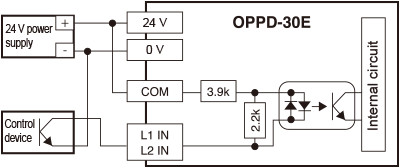 With PNP open collector output device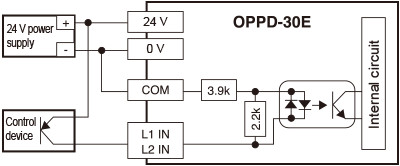 *When connecting voltage output control equipment, apply 12 to 30 VDC between IN and COM. The photocoupler input is bipolar.
New lighting control features
Illumination control input allocation function

With conventional models, one lighting output is allocated per controller input.
With the OPPD-30E, users can switch between one or two lighting units for every input at the controller.
In addition to reducing the number of wiring, the OPPD-30E enables flexible input changes even after wiring has been completed.
Conventional setup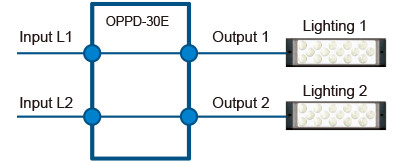 Allocation examples
Ex. 1: Simultaneous output to 2 channels for 1 input

Ex. 2: Switchable output

Lighting control sequence

With the OPPD-30E, up to four illumination setting patterns including light intensity values can be configured. Each pattern can be configured in an illumination control sequence with ordered switching for each illumination control input. (Lighting delay time settings are shared.) With intensity values and illumination widths set in advance, automatic switching is only performed for illumination control input, allowing the time required for changing settings to be kept to a minimum.
With conventional models, control is not possible without using a PLC and setting up complex ladders.
With the OPPD-30E, such control can be achieved with no other equipment required.
Ex. 1: Light intensity value and emission width switching
Lighting control sequence: 2-count setting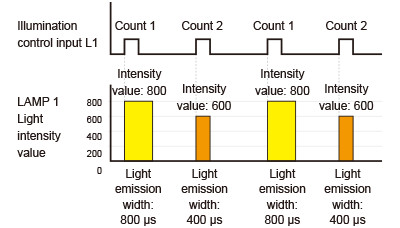 Ex. 2: Lighting switching
Lighting control sequence: 2-count setting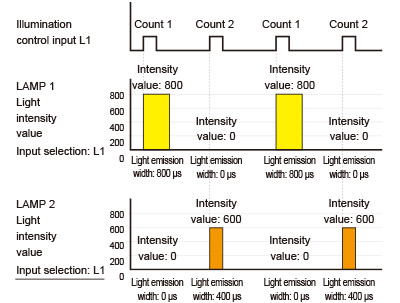 Automatic brightness management and predictive lighting maintenance
 Brightness/temperature monitoring and feedback control

Connecting the OPPD-30E to lighting equipped with "FALUX sensing" enables monitoring of the lighting brightness and temperature.
Based on these monitored values, light intensity feedback control can be performed, allowing brightness to be kept constant.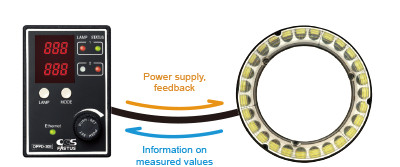 Monitoring function

The lighting's built-in photodiodes are used to monitor the brightness of the lighting.
Alarm output: Setting a threshold in advance makes it possible to output an alarm when brightness decreases to a predetermined level.
Instrumental error adjustment: Absolute brightness monitoring makes it possible to adjust for lighting instrumental errors.

Light intensity feedback control

Automatic brightness management

With LED lighting, decreases in brightness can occur due to various factors including drops in voltage caused by extension cables
and LED deterioration.
The factory default brightness is maintained through automatically corrected intensity values to prevent drops in brightness.
Corrections can be verified as "Corrected intensity value."
The feedback range is determined by the set intensity value and the maximum intensity value (999).
A signal is output as a feedback error when the maximum intensity value is reached.

[Feedback mechanism]

OPPD-30E

The PWM ON time is corrected according to changes in brightness, allowing brightness to be automatically adjusted.

<Reference> OPPF Series

Output voltage is corrected according to changes in brightness, allowing brightness to be automatically adjusted.
Measured brightness/temperature logging function
Measured values such as brightness and temperature can be collected and displayed in a graph using the dedicated software (PC).
Data can be output as a .csv file. Displaying monitored values allows users to recognize LED degradation. This feature is useful as a function for predictive lighting maintenance.
Recordable items

Light intensity value
Monitored value
Corrected intensity value
Lighting temperature
Controller temperature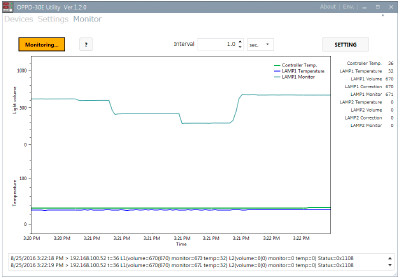 Monitor screen
(dedicated software)
Products
Machine Vision Applications

Ring

Square

Bar (Area)

Flat

Dome

Cylinder

Box

Spot

Line (Convergent Lighting)

Line (Diffused Lighting)

Line (Oblique Angled Lighting)

UV Lights [Ultraviolet Lighting] / Violet Light

IR Lights [Infrared Lighting] (under 1000nm)

Custom Order Product

Intensity Control Units [Light Units with Intensity Control Unit ]

OLED(CCS-LT)

Effilux Products

Basler Camera Light Series

IR Lights [Infrared Lighting] (over 1000nm)

Agri-Bio Lighting

LED Light Units for Plant Research

ISL-150X150 Series Unit

ISL-150X150 series cables

Human Vision Inspection and Microscope Applications

LED Light Units for Microscopes

Power Supplies

High Power Strobe Control Unit

Digital Control Units

Analog Control Units

Building Block Types

LED Light Controller

Control Units [for the HLV Series]

Strobe Unit

High-capacity Analog Control Unit

High-capacity Constant-current Control Units

Controller with EtherNet/IP Interface

PoE Enabled Controller

Control Units [for CCS AItec]

Cables

Extension Cable [for PF Series]

Straight Cables

2-way Cables [EL connector type]

4-way Cables

Robot Cables

Straight Cables [EL connector type]

2-way Cables [EL connector type]

Straight Cables for metal connector (7 pins)

Straight Cables for metal connector (37 pins)

Straight Cables for M12 connector

External Control Cables

Relay Connector

Options

Filters

Polarizing Plates

Diffusion Plates

Light Control Films

Adapter [for the CSR Series]

Lens Attachment Rings

Fixtures

Converter

Protective Plates

Coaxial Units

Fixtures

Reflection Plate

Condenser lens

Lenses

Telecentric Lenses

Macro Lenses