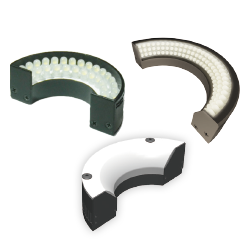 Half Ring Lights Series (LDR2-HF / LDR2-LA-HF / HPR2-HFCT)
It has a space-saving design that can be installed and used in a limited space
Can be customized according to the application such as emission color and size
Application example : Engraving and scratch inspection of curved metal parts
Printing inspection, dirt inspection, etc. of curved containers and bottles

This is a made-to-order product. For queries and details, contact your CCS sales representative.
Custom orders are available to change the size, emission color, cable length, etc.
Usage Example
Engraving / scratch inspection of curved metal parts
Print inspection / dirt inspection of curved containers and bottles
Foreign matter contamination inspection such as chemicals
Imaging example: Resin bottle cap
Printing inspection on the top of PET bottles
Can be installed in narrow spaces or close to walls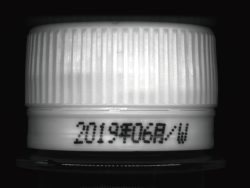 Imaging conditions
Distance from lighting to work: 7mm
Dimming value: 56%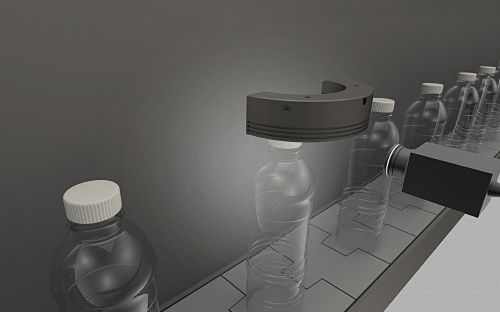 Lineup
Half Ring Lights

LDR2-HF


Uses a flexible circuit board to achieve the functions needed for a Ring Light. It can illuminate workpieces at an angle and can illuminate the whole workpiece.

Half Ring Lights Low Angle

LDR2-LA-HF


The features of the workpiece can be clearly extracted with direct light from a low angle towards the center of the workpiece.

Half Ring Lights

HPR2-HFCT


Provides diffused light from the LEDs without waste using a unique illuminating mechanism. Even if the distance from the workpiece to the Light Unit is changed, there is little variation in the uniform region and it can therefore be used for a wide variety of uses.
Contact us
Made-to-order products: contact your CCS sales representative for more information.

Products
Machine Vision Applications

Ring

Square

Bar (Area)

Flat

Dome

Cylinder

Box

Spot

Line (Convergent Lighting)

Line (Diffused Lighting)

Line (Oblique Angled Lighting)

UV Lights [Ultraviolet Lighting] / Violet Light

IR Lights [Infrared Lighting] (under 1000nm)

Custom Order Product

Intensity Control Units [Light Units with Intensity Control Unit ]

OLED(CCS-LT)

Effilux Products

Basler Camera Light Series

IR Lights [Infrared Lighting] (over 1000nm)

Reference Light Source

Agri-Bio Lighting

LED Light Units for Plant Research

ISL-150X150 Series Unit

ISL-150X150 series cables

Human Vision Inspection and Microscope Applications

LED Light Units for Microscopes

Power Supplies

High Power Strobe Control Unit

Digital Control Units

Analog Control Units

Building Block Types

LED Light Controller

Control Units [for the HLV Series]

Strobe Unit

High-capacity Analog Control Unit

High-capacity Constant-current Control Units

Controller with EtherNet/IP Interface

PoE Enabled Controller

Control Units [for CCS AItec]

Cables

Extension Cable [for PF Series]

Straight Cables

2-way Cables [EL connector type]

4-way Cables

Robot Cables

Straight Cables [EL connector type]

2-way Cables [EL connector type]

Straight Cables for metal connector (7 pins)

Straight Cables for metal connector (37 pins)

Straight Cables for M12 connector

External Control Cables

Relay Connector

Options

Filters

Polarizing Plates

Diffusion Plates

Light Control Films

Adapter [for the CSR Series]

Lens Attachment Rings

Fixtures

Converter

Protective Plates

Coaxial Units

Fixtures

Reflection Plate

Condenser lens

Lenses

Telecentric Lenses

Macro Lenses