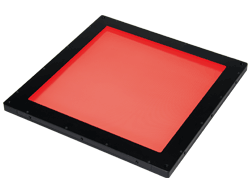 LFX2-200RD
Not available from Feb/28/2018".
The recommended alternative model is LFX3-200RD.

This Light Unit emits red light and measures 247 x 247 x 12 mm (width x depth x height). The light-emitting surface measures 200 x 200 mm.""
Note: Select a Control Unit which has the number of channels corresponding to the total number of input connectors on the Light Units to be connected. Also make sure that the total power consumption of the Light Units is within the output power capacity of the Control Unit.
LFX2 Flat-Dome Lights cannot be used together with a PTU2-3024, BB-V24S30-M, or BB-V24S30-S Strobe Power Supply(over drive) from CCS.ON/OFF lighting control is possible with a PD2-series Constant Lighting Power Supply.
Product Related Inquiries
Dimensions (mm)